Trigotape ®
TapeConcept Ltd. introduced last year a new innovative concept in the region for the Health Care industry; Trigotape. Together with a partner in Europe a new tape was developed. Instead of having individual plasters the material is placed on a roll, which makes it easy to use for professionals.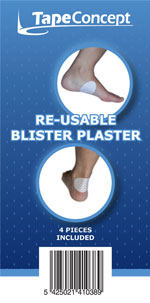 The product is, like Curetape, placed on rolls of 5 cm x 1 m. By making use of Silicon instead of glue the tape is soft and easy to apply, furthermore the irritation level is reduced to a minimum by making use of silicon.
The main purpose of Trigotape is any situation where we see FRICTION between the skin and other materials. When there is friction the skin gets irritated, get's red and in the end blisters can appear. One of the most common consumer applications is the friction that we see with tide/new shoes, but we can also use prevent bedsores. Instead of having small custom-made Compeed (r) -by J&J-, Trigotape can be cut by the customer in all different sizes depending on the problems.
When there is FICTION use TRIGOTAPE!
Compared to the existing products on the market Trigotape has many advantages!
The characteristics of Trigo-Tape®:
Protects the skin again friction from outside influences (friction)
Can be adjusted in size easily
Very slim/thin
Patient does not feel it
Can be used several times (re-usable)
Water-resistant
Breathable and skin friendly
Easy to remove
Can be used on hair
Skin friendly
No glue used!
Patented
Feel free to contact us for more applications.